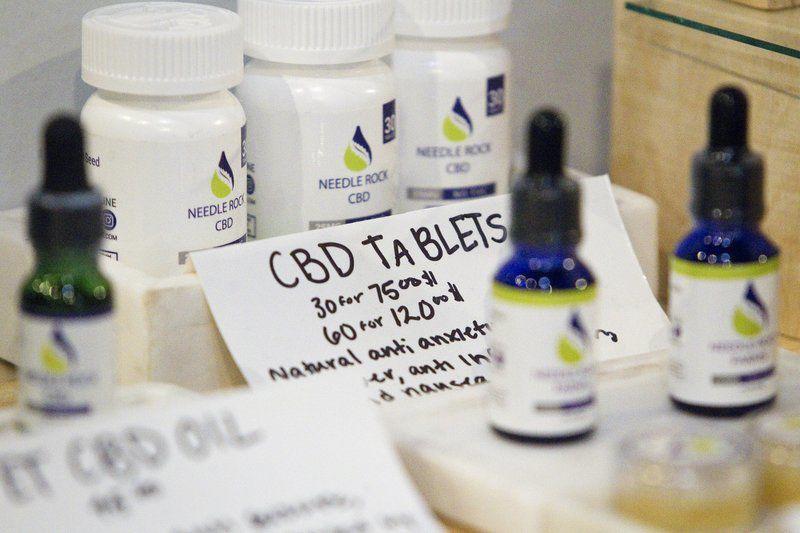 TRAVERSE CITY — Chocolates, lotions, teas and seltzers — there's plenty of ways to get your dose of cannabis, without the high.
Non-psychoactive CBD — or cannabidiol — products can be found throughout northern Michigan at retailers like Oryana Community Co-Op and Edson Farms Natural Foods.
CBD is a THC-free component of the cannabis plant that's gained popularity in recent years for a variety of potential, though lightly studied, health benefits.
"A lot of people come into our store and use CBD for chronic pain, insomnia, anxiety — some people, even for seizures," said Crystal Turner, wellness department manager at Oryana, which added CBD products to its shelves about a year ago. "More and more people are finding it has huge therapeutic potential."
"We have a lot of people asking about it," said Melanie Earl, of Edson Farms Natural Foods in Traverse City, where cannabidiols have been a strong seller since 2016. "It helps with mood, inflammation, sleep issues, anxiety."
The jury is still out, however, when it comes to the right dosage to take — and how effective consumer products can be.
A May 2017 study with a 120-subject pool compared anxiety levels after several rounds of public speaking tests and found that CBD, at 300 mg, markedly reduced that anxiety. The study found that higher and lower doses did not achieve the same level of effectiveness — implying CBD may work within a window.
Other studies, including a 2010 effort published in the Journal of Psychopharmacology, support these findings with similar dosages. Animal-based studies produced comparable results.
CBD shows promise as an anti-inflammatory and to treat seizures, according to a 2014 study published in Epilepsia, an epilepsy-focused scientific journal.
Still, most published studies only look at large, controlled doses of CBD — most lattes, dog treats, oils and chocolates contain a much smaller dose per serving.
A lack of Food & Drug Administration regulation, too, makes it difficult to tell just how much CBD is actually in most products.
The FDA issued warning letters to several CBD manufacturers in 2016 for not matching the amounts of CBD listed on labels, and some for including small amounts of THC — the psychoactive component of marijuana — in their product.
How other drugs interact with CBD remains unclear, too. Research shows mixing CBD and opioids or SSRIS — think antidepressants like Zoloft — can be extremely dangerous. CBD interferes with how the body breaks down those drugs and can lead to an overdose.
Still, hundreds of locals find the products effective, Turner said.
"People come in with a variety of reasons they want to try it, or want to continue taking it," she said.
At Oryana, she added, many customers express interest in CBD products for pets, and the popularity of CBD products overall tends to transcend any sort of demographic.
Gummies, tinctures and teas are favorite forms of CBD at Edson. Oryana carries the product as a tea and in capsules, lotions, balms, oils, chocolates and beauty products.
"We even have CBD seltzer," Turner said. "It's amazing what's coming out with CBD in it."
Turner said since Oryana added CBD products to its shelves, they've only grown in popularity.
"It's one of our biggest sellers in the supplement department," she said. "With each month, we see more and more growth."
It's a national trend — CBD sales, nationally, have grown by more than 300 percent in the past year, according to market data collected by the New Hope Network.
And while the drug's full effects are still a mystery, don't expect to see them leave shelves anytime soon.
"Really, the No 1. product people looking for on a daily basis is CBD — just everything: CBD balms, oils," Turner said. "It's just crazy."
"Really, the No 1. product people are looking for on a daily basis is CBD — just everything: CBD balms, oils. It's just crazy."
Crystal Turner, Oryana wellness department manager
Source: https://www.record-eagle.com/news/local_news/cbd-proves-popular-locally-but-product-effectiveness-varies/article_f3755897-d76a-5b79-9fe6-589b61fa1934.html